Destiny Adjaho who just turned 15 this year January 27 is one of the brilliant aspiring engineers from Ghana, a science student and in his final year at the Keta Senior High School. He is passionate about innovation and invention. He has created an animation shot which can be viewed here.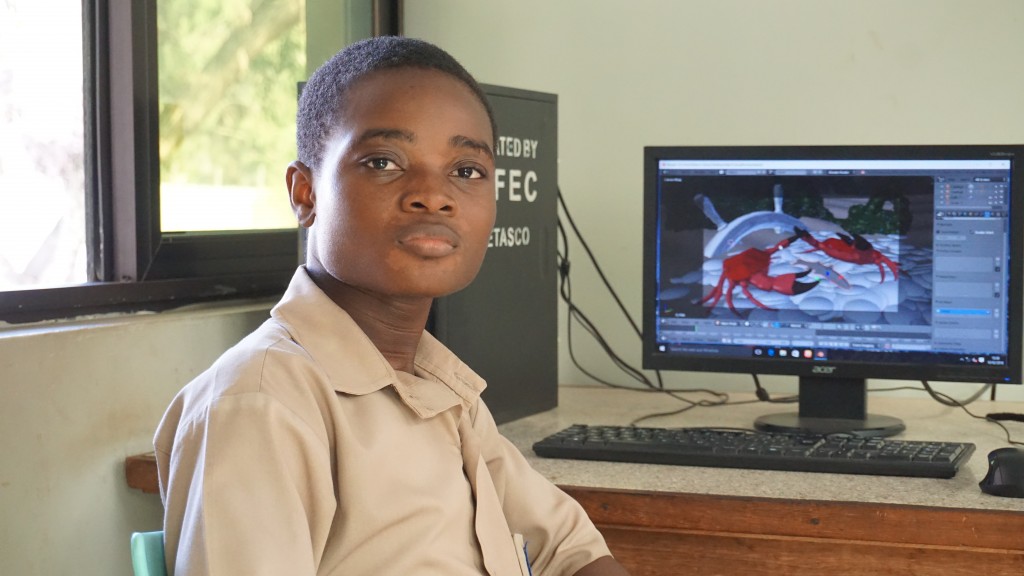 Despite challenges in bringing his animation talent to reality he still enjoys learning and making shots. You can catch a glimpse of some of his animation shots here.
"I always want to invent something and to tell stories with animation but due to material constraints and lack of the right tools I just keep doing the minor jobs on my animation shots and mostly my shots never get completed. But because I am determined to make my dreams come true, I have decided to create this animation shot for everyone to see.
Thanks to Noah Alorwu for inspiring me and being my guide. He has shown me a lot of inspirations from which I see teens invent and make things happen and that makes me always feel that I can also be one of them with my animation talent."
What motivates you to do animation?
"I never had the dream to animate before then but my dream and love for animation developed through watching samples on television. One day I researched and found out that all these things I watched were made by the computer. From my perception animation has become a way of telling your stories in a realistic manner because we believe when we watch than when we read novels. From this, I felt that I also need to get my stories told by using the opportunity that has come. A mobile device helped me learn about animation with YouTube as my main source of tutorials. I started practicing with an open source tool called blender and within three weeks I got used to the basics of doing animation with blender and after it I created my first shark and train animation from tutorials. The results of these animations triggered me and made me discover the love I have for animation and its related mysteries."
If you are provided the tools how far can you go with your animations?
"Let me say it will be bliss in my life because all the projects that I have put down are all attractive and the world will love it and appreciate the fact that Africans can do something. In fact, I am hoping for a 30 minutes' animation video that will tell a story I have in my mind. But it has to do with advance animation skills and I need the tools to advance my skills in the game and so if I am provided with the right tools then I will become an icon on the desktop of the world of fame."
So what is your aim now?
"My main aim is to master animation at a younger age and become one of the youngest animators in the world because I feel that it is where I belong. I also want to use my skills in animation to help the engineering sector in developing powerful machines because I am also an engineer."
How do you feel about your talent?
"it is a great opportunity for me because animation is not an easy task and require brilliant people so if I am blessed to have such a talent, then glory be to God."
Destiny is not just an animator but also an aspiring engineer. Let us see what will become of this young innovator when he gets the tools…
Source: MLS innovation Forum